A tender free solution
Practical seamanship
The platform can be single-handedly inflated and launched anywhere in less than five minutes, providing instant access to the water line and allowing crew members to work smarter – not harder. Gone are the days of having to detail the tender after a full topside wash down. Our unique ballast bag system provides excellent stability in the water and enables easy removal from the water after use.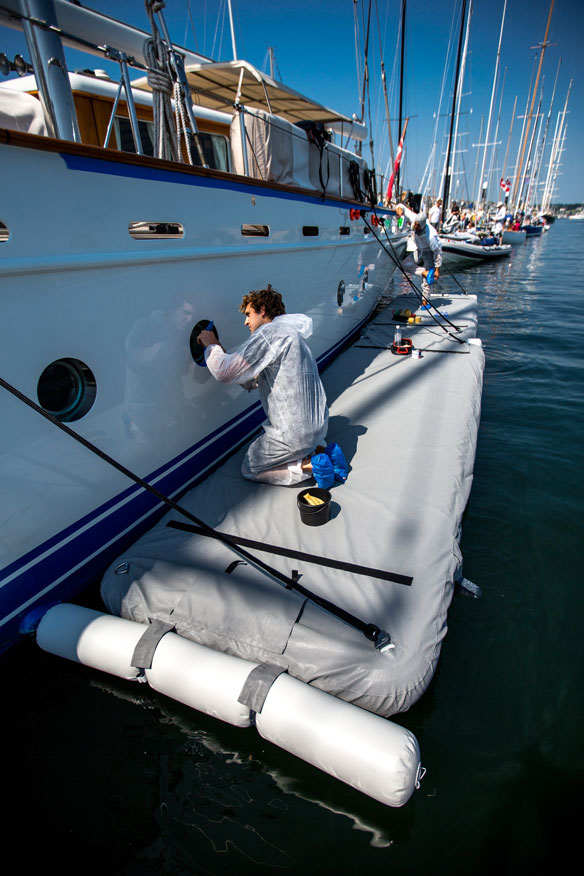 Multi-functionality
Switch easily from guest to crew use
In the relentless pursuit for the perfect solution, we've designed our platforms to have the ability to transform from a guest ready leisure platform into a solid inflatable maintenance tool. Simply add the lightweight, non-skid fitted cover to protect the platform and your crew can easily clean, varnish, paint, polish and have the hull of the yacht looking immaculate before leaving port.
With the addition of collapsible Velcro bottom buckets and hose holders, your crew can work efficiently around the topsides without losing equipment over the side.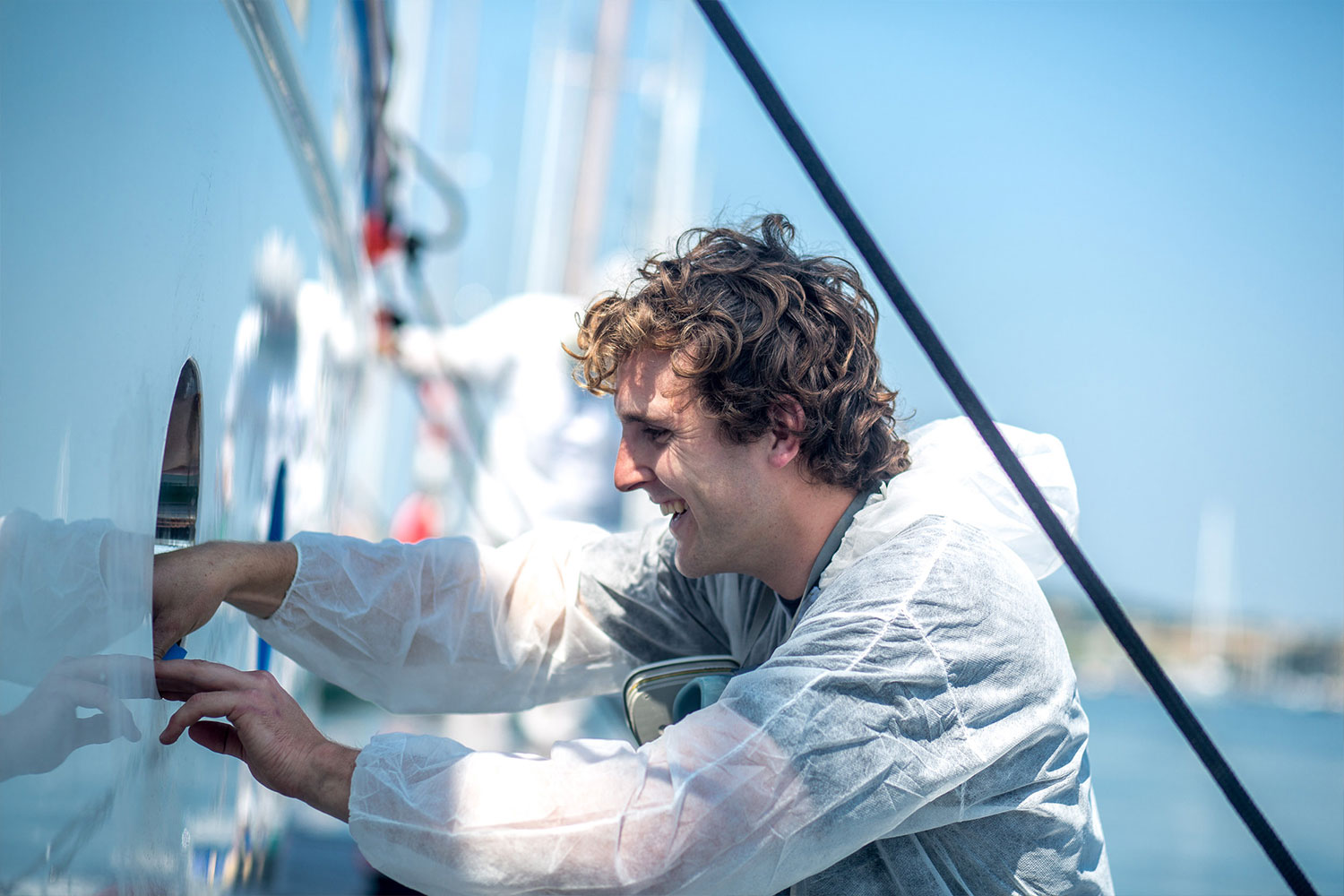 "I'm not really sure how we survived before the NautiBuoy came into our lives. It has become part of the yacht's procedure when berthing (secure yacht, extend passerelle and inflate NautiBuoy). Washdowns and hull detailing have never been so easy and it's not long until we get another yacht in the marina asking to borrow our NautiBuoy. Bliss is a 37m performance sailing yacht so we do not have unlimited storage, but we find the NautiBuoy stows away very neatly and there is no problem finding it a home." A. Sheltrum, SY Bliss
Yard maintenance
Where's the marina raft?
You'll never have to play "where's the raft?" in a yard period again. There'll always be a solid multi-purpose inflatable raft to work from whenever you need it. Specifically designed with soft loops and edges, it can sit alongside your vessel for days without you having to worry about any damage.
The platforms can be connected end-to-end for those larger yard period topside projects. There's no limit to the length of platform you can create, and with the addition of triangles to create corners, you can work round any bow or stern. The platforms and triangles can be fully protected using the fitted maintenance covers.
Purely Maintenance
Platforms for the professionals
The robust Diamond non-skid finish, is durable yet easy to clean which makes these platforms an ideal tool for carrying out paint and varnish work as well as routine weekly wash downs of the hull and daily generator soot removal. All of the Diamond finish platforms within our range can still be linked end-to-end allowing users to make giant working platforms during yard periods. They can be converted simply into a maintenance tool with the use of the Maintenance add-on.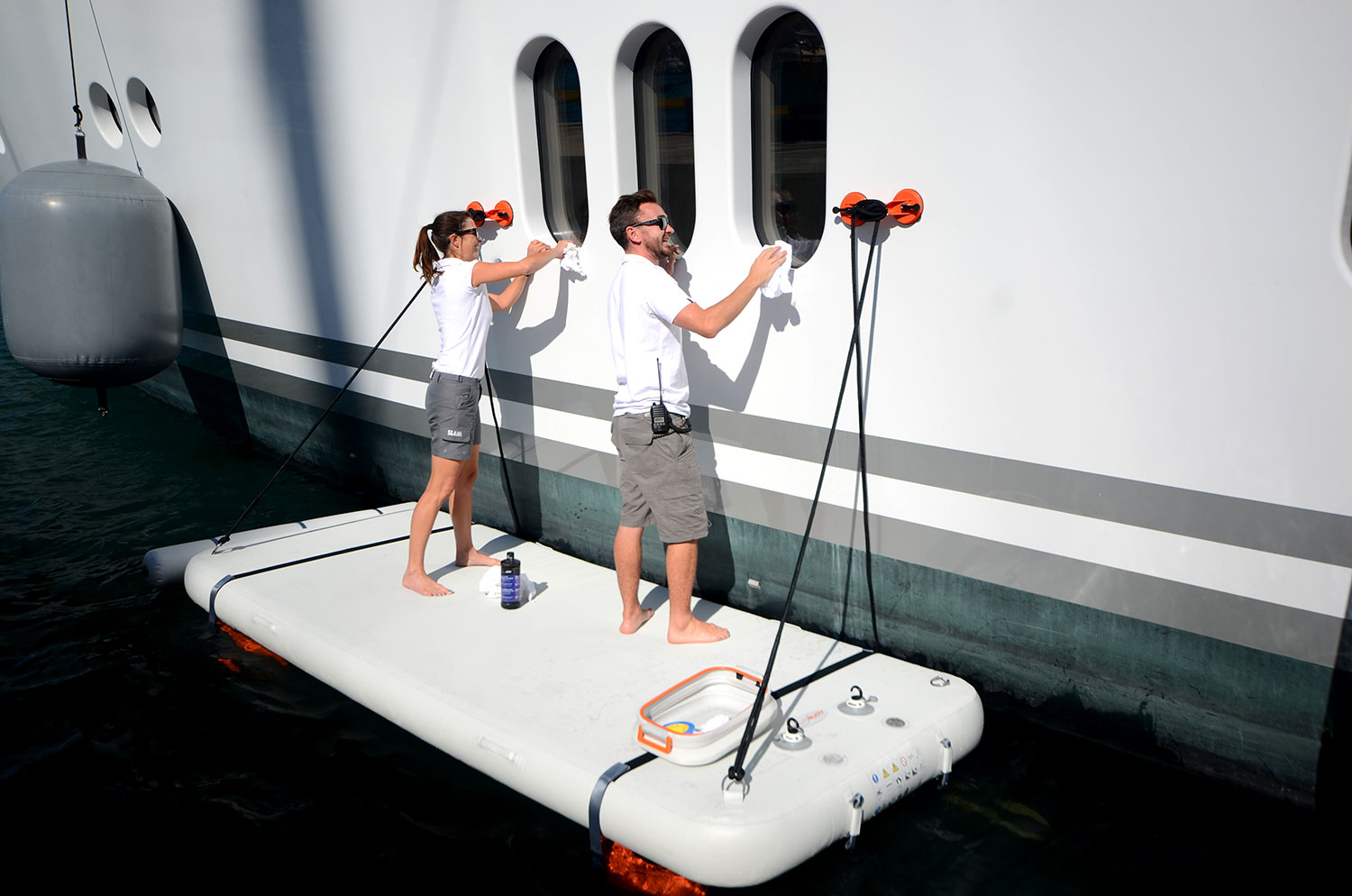 Tender Free Solution – eliminates the need to detail the tender, again
No more searching – a platform on hand at all times
No damage to the vessel and paintwork – can sit alongside for days
Stable and easy to remove from the water
Easy to clean
Hose Holders and Collapsible Buckets with Velcro bottom to prevent loss overboard
Accessorise
For extra enjoyment