Jet-ski dock
Soft landings
By simply connecting any two platforms in a T-shape, you're able to configure your own jet-ski dock. This limits any damage to transoms and jet-skis, as well as providing a safer, easier transfer for yourself and your guests.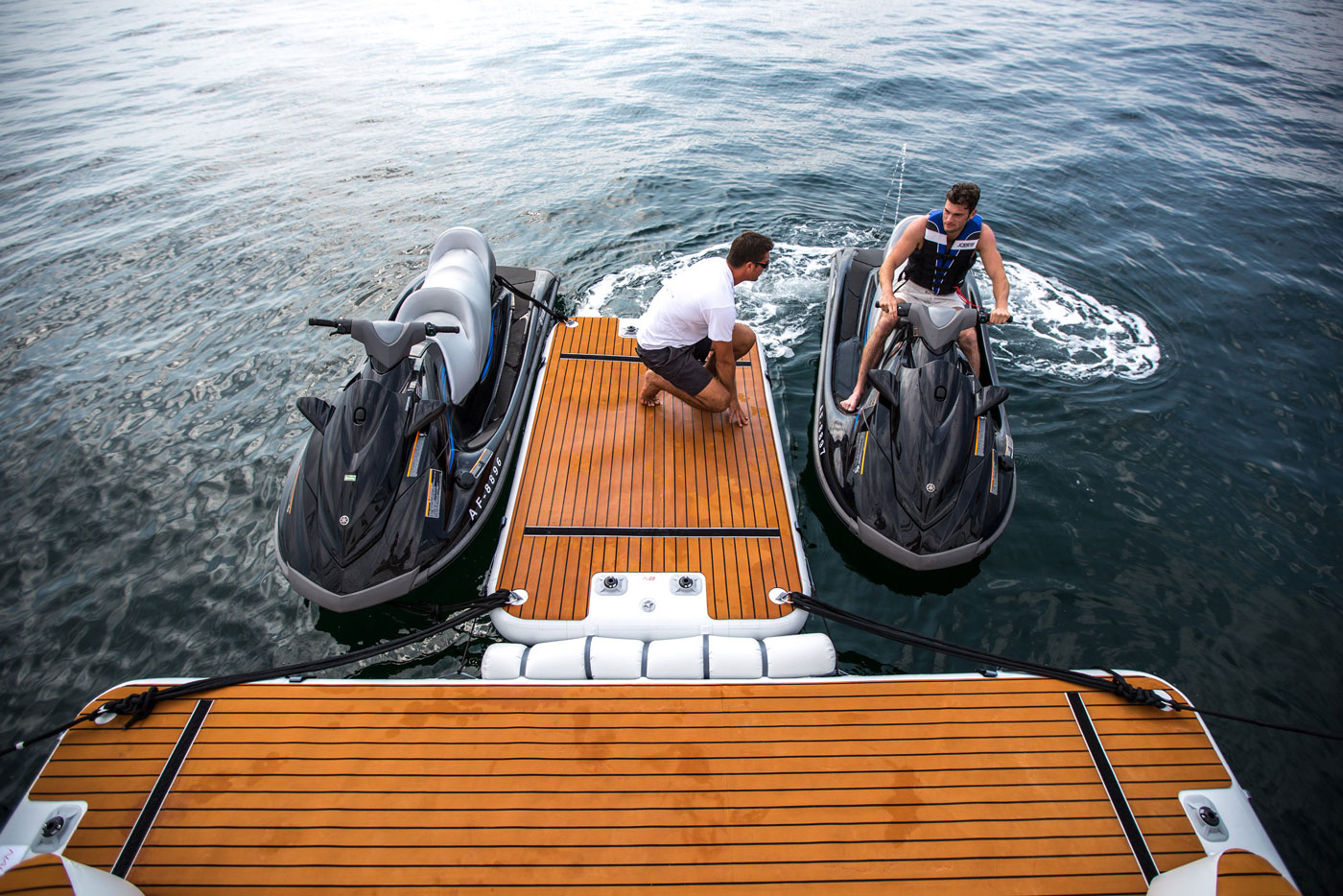 Protecting investments
A different approach
The versatile nature of the NautiBuoy Marine Platform means that whilst offering leisure and maintenance options, it also helps protect the yacht against damage to the transom from jet-skis or other equipment. The platforms can be configured in a multitude of different ways using our unique Air Toggle System, offering maximum flexibility. Transom bumpers
Our transom bumpers designed to allow the platforms to be tied to the back of the yacht, preventing them from disappearing under most transoms.
Safety
For you and your yacht
Not only does the Air Toggle System add flexibility with connection, it also provides our platforms with a 2nd air chamber for safety, meeting strict EN 15649-1-2-3:2012 compliance regulations.
Designed to stop the platforms rising and falling on top of each other in swell, they also prevent possible entrapment between connected platforms. The Air Toggle system keeps the platforms level with each other during any movement.
See the Air Toggle and Transom Bumpers in action whilst tests were carried out in Plymouth University at the COAST Lab wave pool. The jet-ski dock, configured from a Voyager 525 and a Voyager 375, was subjected to low and high frequency waves for 9 hrs.
The Air Toggles are fabricated from German high strength PVC and have A6 Leafield Marine 5.5 psi/ 379 MB pressure release valves installed for safety. They are quick and easy to inflate using the Bravo double action SUP stirrup pump.