Climb on board
Boarding Ladder,
gracefully exit the water
The user-friendly 4-step ladder makes it safe and simple for you to get back on to the platform.
The ladder locks securely and easily into place using the Multipurpose Platform Mountings (MPM's) positioned at one end of the platform. Further support is provided by the Air Toggle loops that fit snugly under the adapted ladder arms, enabling the ladder to carry up to 100kgs (220lbs).
With the frame fabricated from marine grade 316 stainless steel and with four smooth contour plastic steps, the ladder is a must have accessory for any keen swimmer.
Due to design changes and improvements, the ladder present in the picture may not exactly depict the product purchased by the consumer.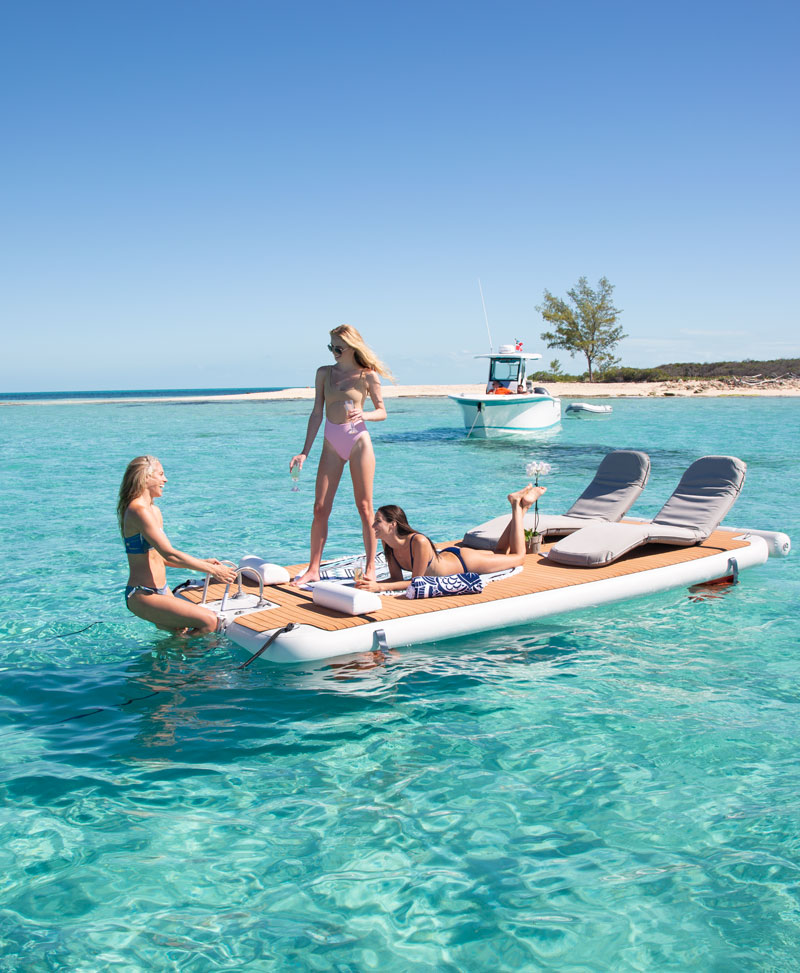 Platforms on the Stern
Transom Bumpers, prevent
drifting under your transom
We recognise that transoms vary in height and design and that platforms have the potential to occasionally drift underneath the stern, particularly when being used as a jet-ski dock.
The inflatable transom bumpers can be effortlessly fastened to the surface of the platform adding another 35cm (1ft) in height. These are suitable for transoms of up to 45cm (1ft 6"). Air Toggle
Linking side by side*
As standard, each platform comes with one air toggle which allow for all T-shape, L-shape and end-to-end connections. When linking side-by-side, longer toggles are needed. To determine the size you require, please see the table.
These longer toggles are available to purchase as a separate accessory.
* Voyager only
Air Toggle size guide
PLATFORM TYPE
675
800
525
375
675
4.5m
4.0m
3.5m
2.5m
800
4.5m
4.0m
3.5m
2.5m
525
3.5m
3.5m
3.5m
2.5m
375
2.5m
2.5m
2.5m
2.5m