Designed for yachtsmen by yachtsmen
It's all in the details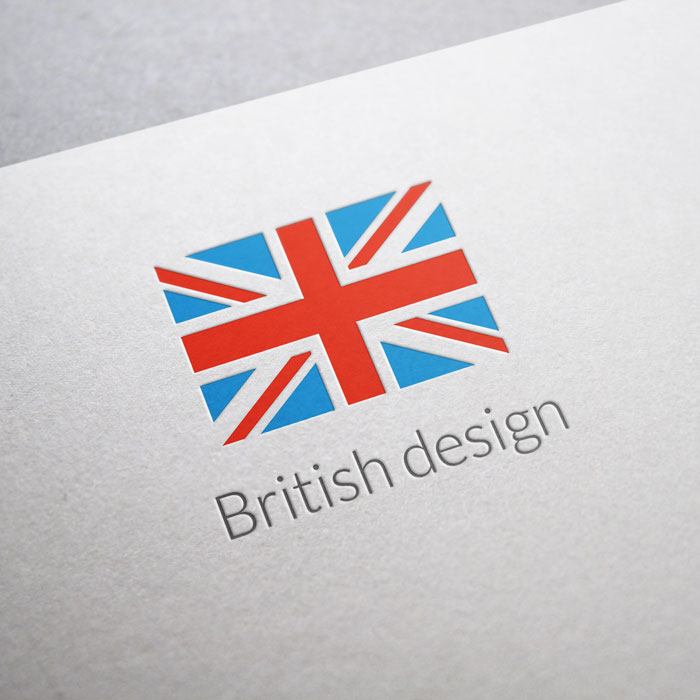 British design
Our platforms are British designed by ex-superyacht crew with 25 years experience. We have European design protection and two patents pending.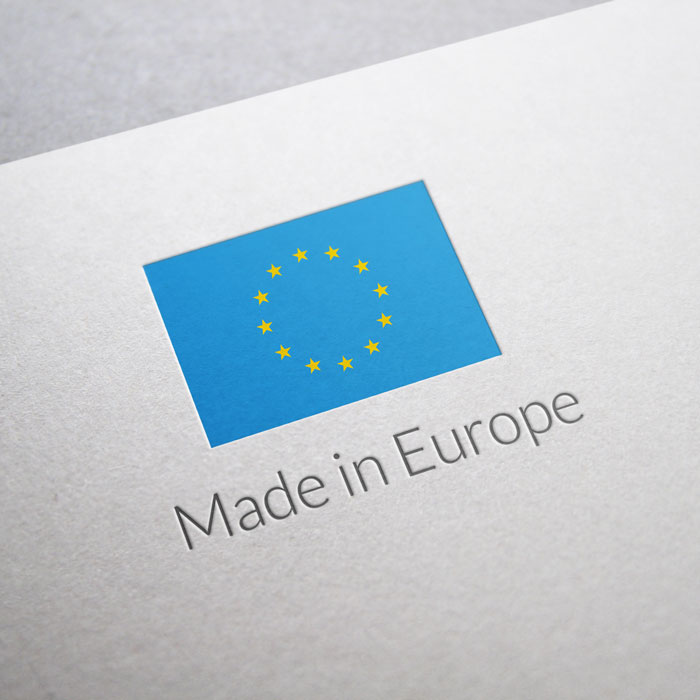 Made in Europe
Meticulously hand crafted and made to our exacting specifications by leading industry professionals.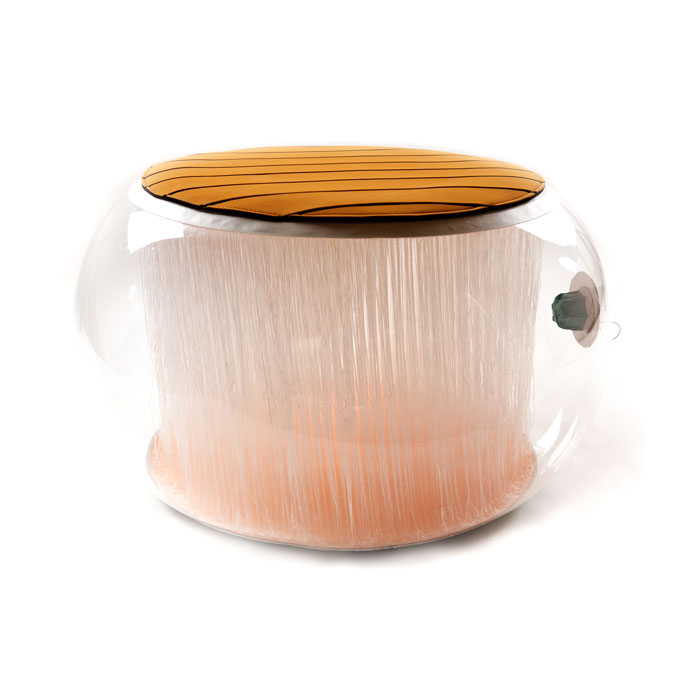 Durability
The Platforms are constructed from a dropstich core, with borders made from Mehler German PVC which is know for its strength and durability.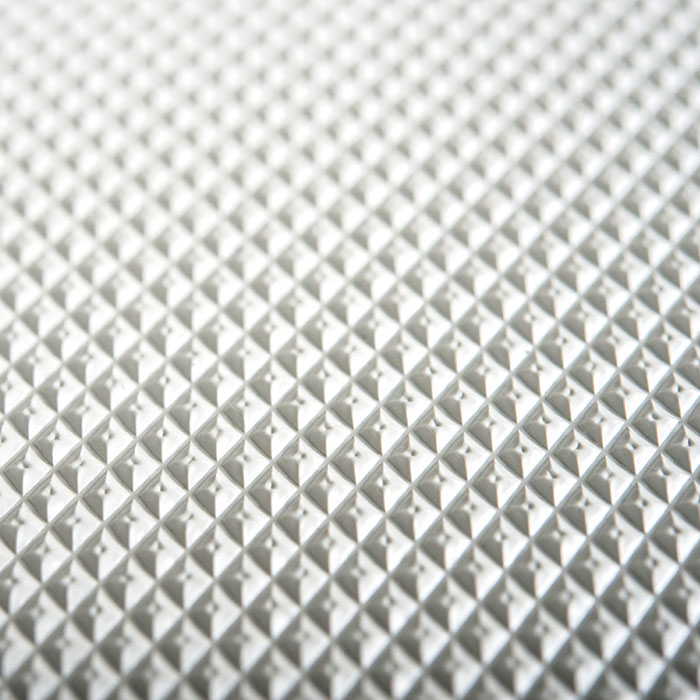 Diamond finish
Our Diamond non- skid PVC surface provides , a robust easy to clean finish with a contemporary look.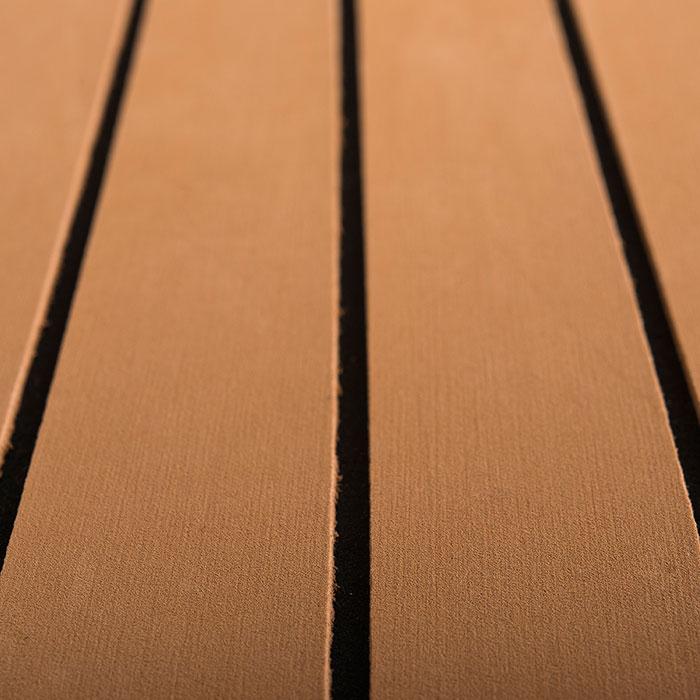 Teak finish
Our UV resistant teak look surface is not only soft under foot and comfortable on the skin, it also provides a non-skid floor for safety.
European design protected.
Non-skid surface
Both of our surface finishes Teak or Diamond provide a non-skid surface for safety.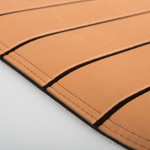 Glued & stitched
Teak effect foam stitched and glued for extra reinforcement.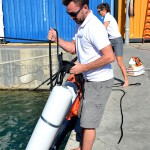 Easy to remove from the water
After the ballast water has been expelled, platforms are lightweight to remove
from the water.
Stability
What makes it so stable
Our unique patent pending ballast system provides incredible stability to the platforms when they're on the water. Filling up quickly the four ballast bags, positioned in each corner, provide you with a stable surface almost instantly. It couldn't be easier to remove the platforms after use. The manual dump system has been carefully designed to expel the water rapidly and for you to effortlessly remove the platform from the water. Ballast system
Wave laboratory tested and refined to give superior stability on the water. Ballast dump system
The patent pending ballast dump system expels all the ballast water from each bag in one simple, easy movement.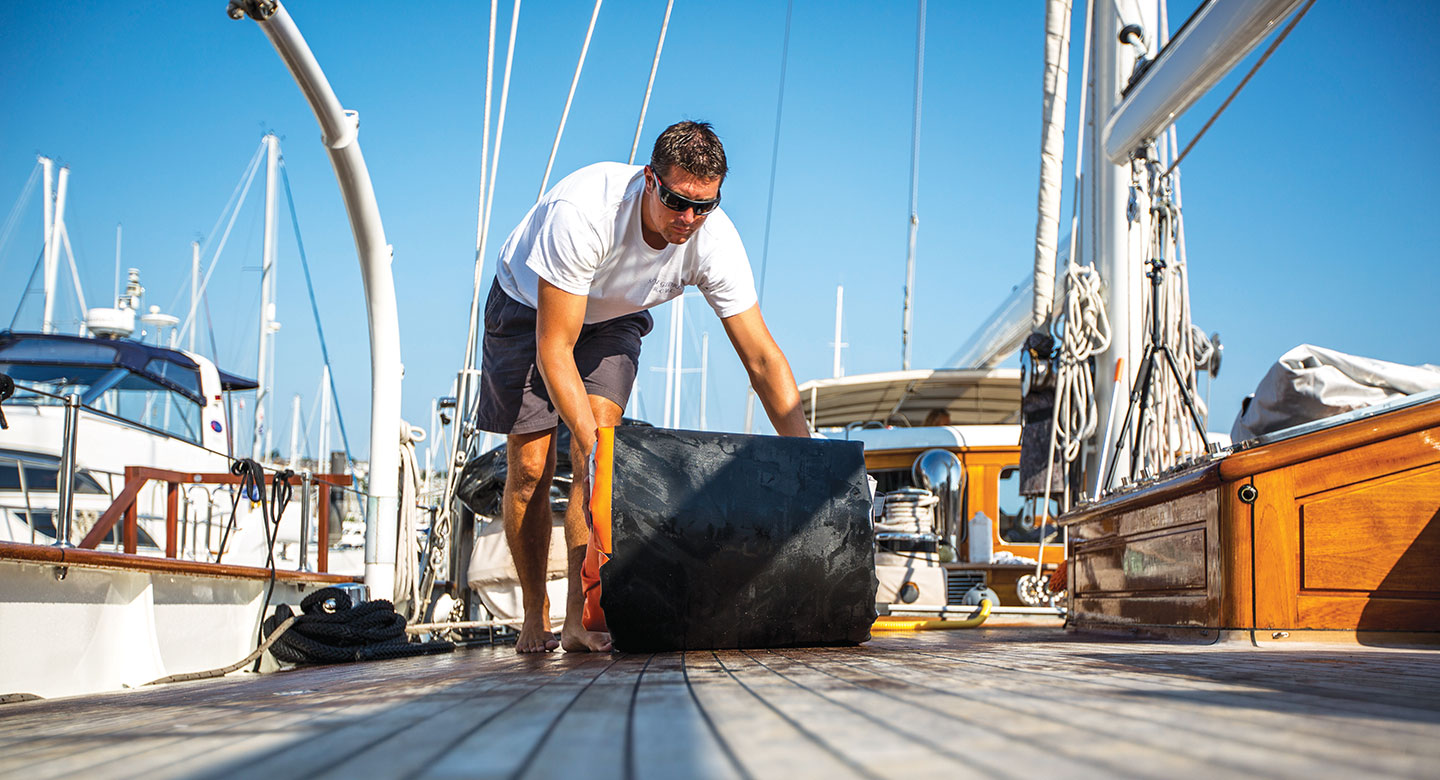 Easy to stow
We understand the value of storage space on your yacht. Our platforms can be deflated and rolled into a conveniently stowable protective bag with large internal pockets.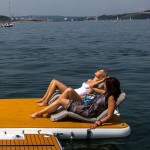 Rigid
Extremely rigid & stable once inflated due to its dropstitch core and ballast system.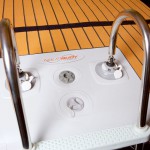 Extra reinforcement
We've added a double layer of material to protect against wear and tear from the ladder.
Quick to inflate
Quick and easy to inflate and deflate to 3.6 psi / 250mb. Inflation/deflation times range from 1min 30sec to 3mins 30 secs depending on platform size.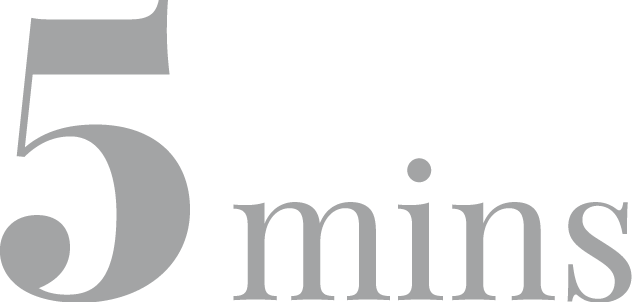 Soft loops
Only soft loops are used on the bottom and edges of the platform to prevent any damage to the topsides, paint and varnish work, as well as the teak deck.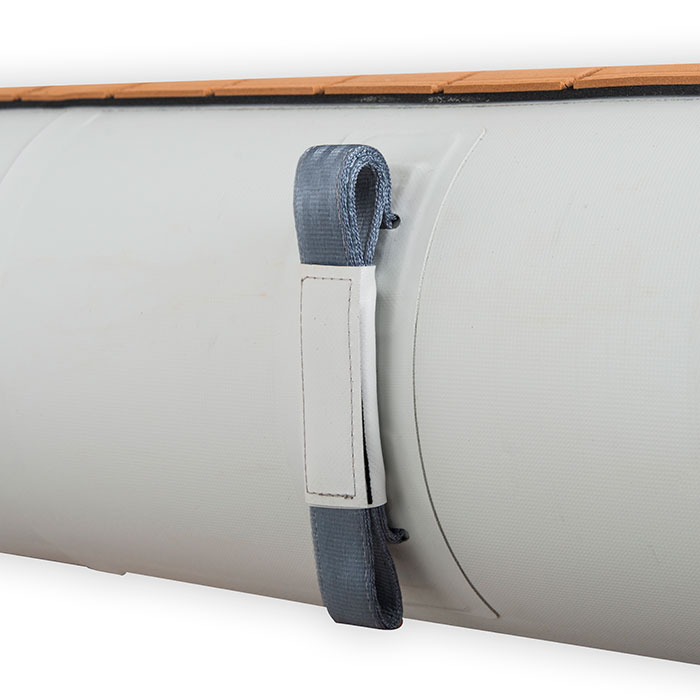 Air Toggle loops
The Air toggle loops have an easy tidy-away Velcro system for when not in use. Quick to release and rapid to secure, they keep the platform looking streamlined.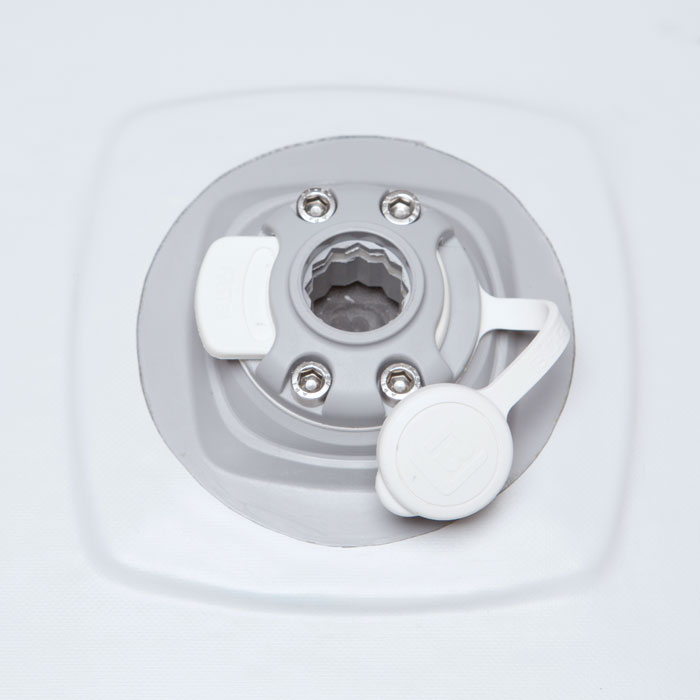 Multipurpose Platform Mountings
The Multipurpose platform mountings (MPM's) offer the ability to lock and secure a multiple range of accessories including boarding ladders and hose holders.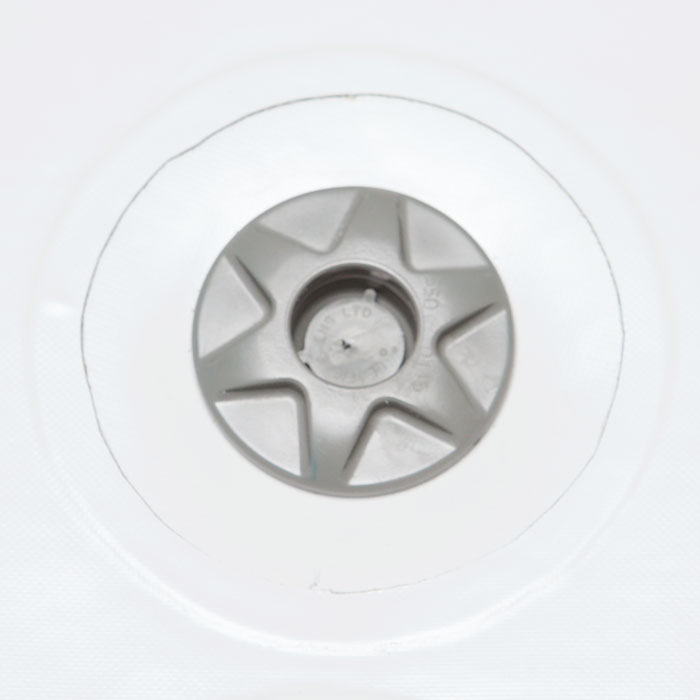 Pressure release valve
All our platforms and Air Toggles are fitted with Leafield Marine A6 5.5psi/ 379mb pressure release valves. These ensure the release of excess pressure due to the expansion of air in hot temperatures.
Valve
Bravo C7 Halkey Roberts inflation valve with internal protective mesh and an easy push release button. The fitting allows the for the Bravo OV10 pump to be secured into the valve for hands free inflation and deflation.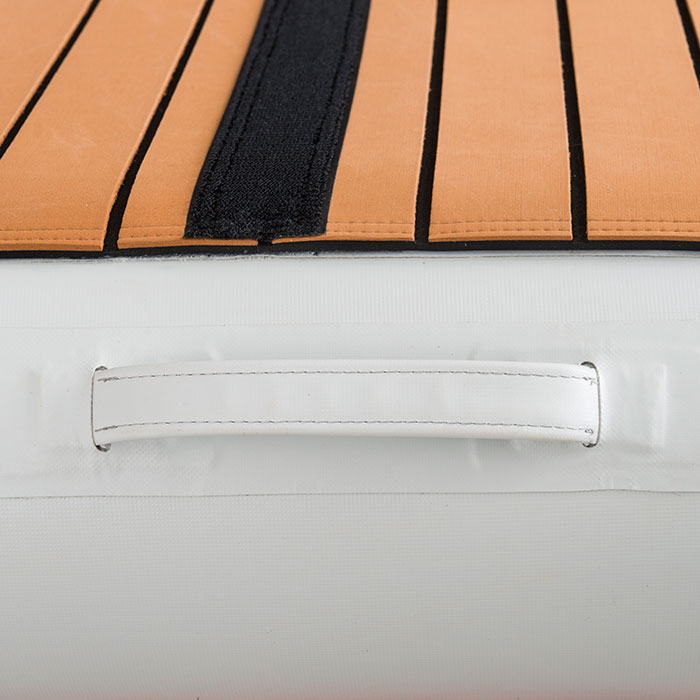 Lifting handles/Connection points
The Voyager series platform has 4 lifting handles strategically positioned for dual use. They provide lifting points and are used when linking platforms together.
Suction cups with cleats
A simple and convenient tool to attach the platform to the topsides, making quick, easy work of manoeuvring around the vessel.
Provided with the Maintenance Packs only
Docklines
Black 8m (26ft), 14mm (0.5") eye spliced polyester docklines are provided for securing platforms alongside or behind any vessel.
Provided with the Maintenance Packs only
Anchor point
Reinforced double layered 50mm seatbelt webbing, bonded and stitched onto an extra large pad for safety and security. Designed for mooring, anchoring and towing.
Stainless steel D-rings
Heavy duty 316 Stainless D–rings designed with extra large bonded pads, ideal for tying the platform to the vessel or attaching jet- skis and watersports toys to the platform.
Secure accessories
To prevent loss of accessories overboard, 50mm strips of Velcro have been stitched to both the top of the platform and the maintenance cover.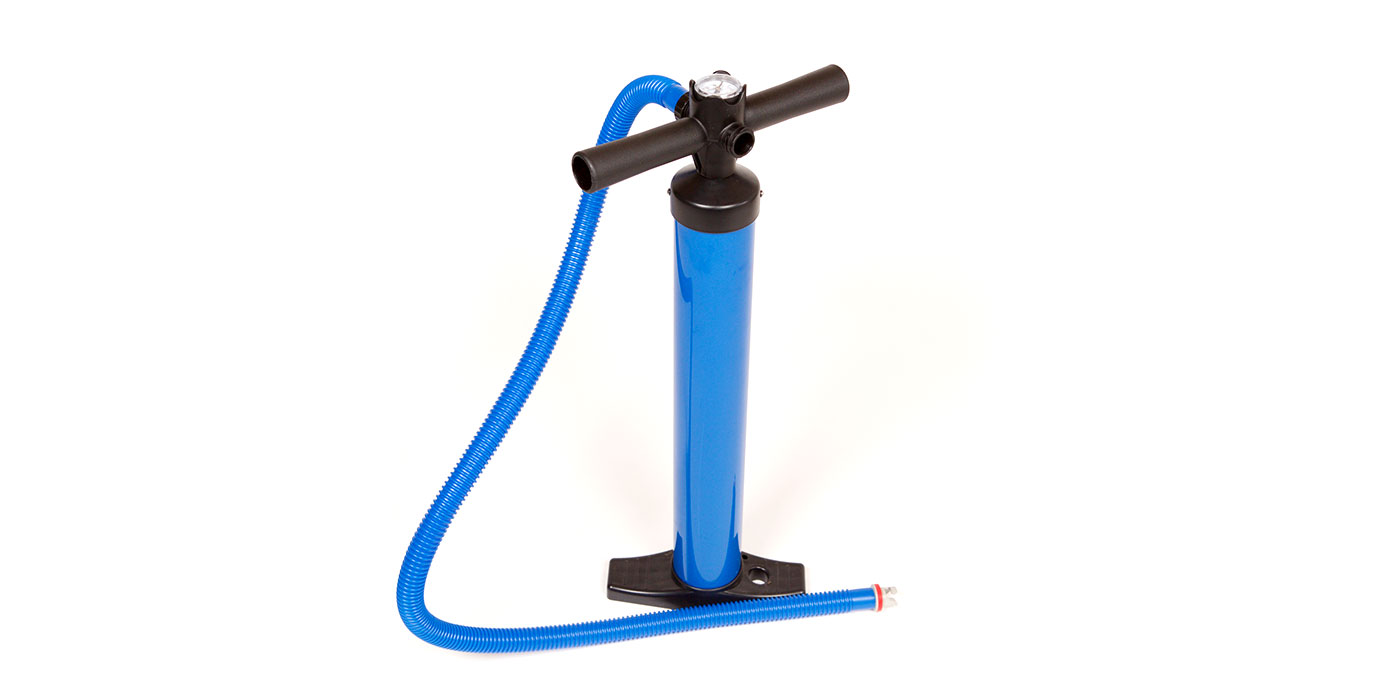 Bravo manual stirrup pump with pressure gauge
Provided for the in ation of the Air Toggle whilst the users are on the water and also
to top up the pressure of the platforms. The pump also allows the monitoring of pressure.
Bravo pump design may vary
Bravo OV10 pump
A compact fast inflating/deflating electric pump with Halkey Roberts connection nozzle. Options are available for 230v and 120v. Maximum inflation 3.6psi/250mb.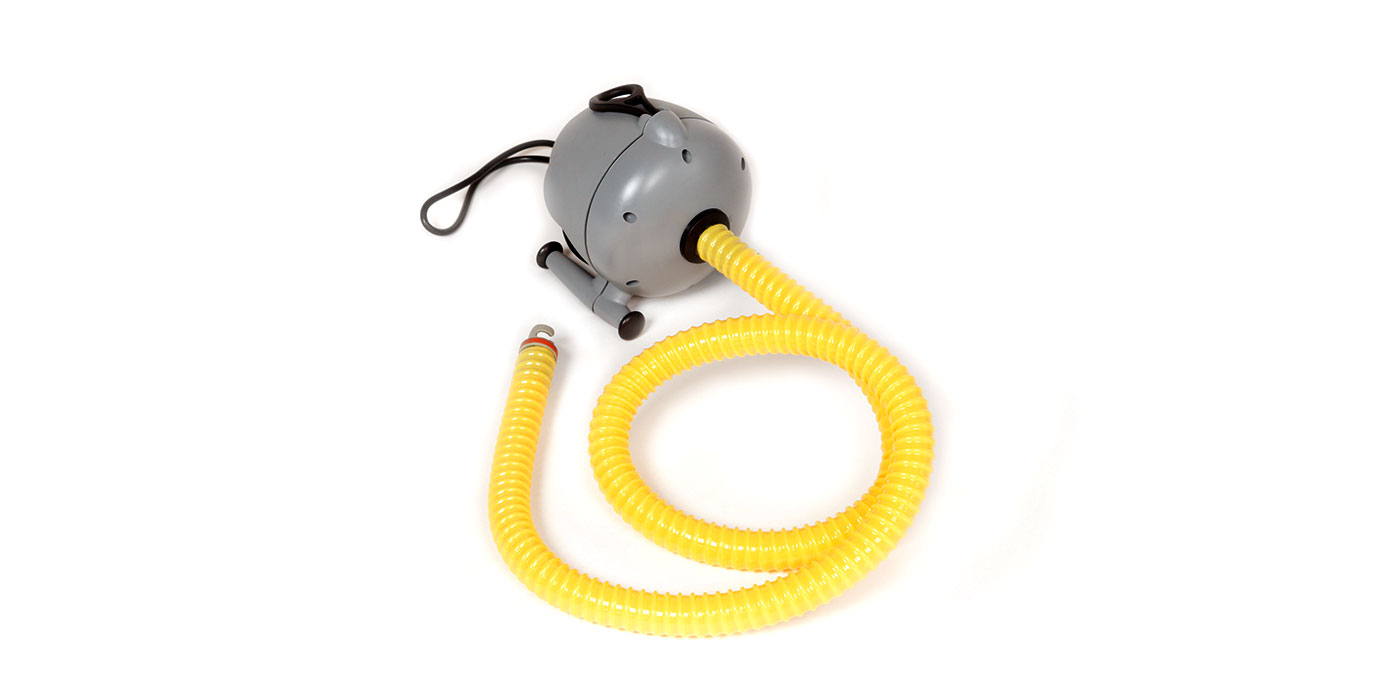 Conveniently stowable
All our platforms role up and fit comfortably into our zipless protective bags, which can be stowed under rib collars, in lazarettes or most work lockers.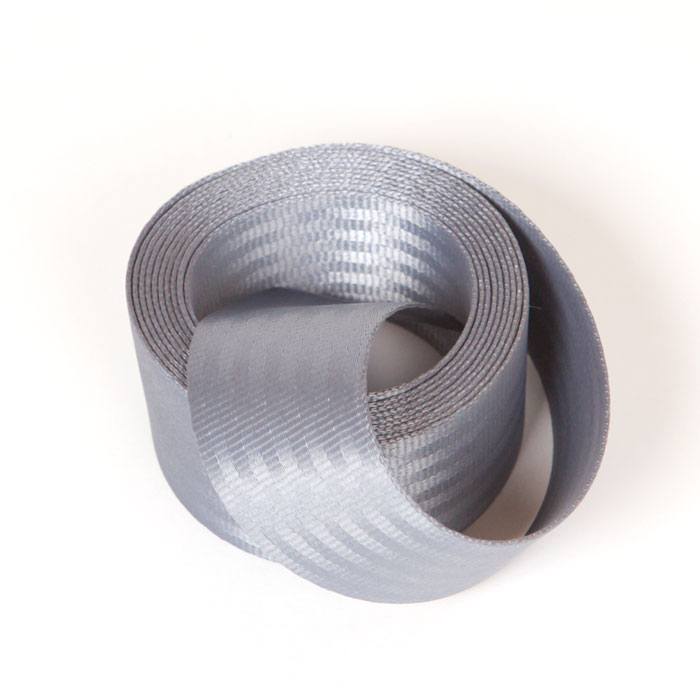 Seatbelt webbing
For all handles, D-rings and anchor points, industrial 50mm seat belt webbing has been used. The lifesaving technology offers reliable strength and longevity
Connection straps
Made from high strength UV resistant webbing with long-lasting corrosion free buckles, the connection straps add extra security when linking multiple platforms using the Air Toggle System.
Materials
Voyager & Sport
Made from 200mm PVC dropstitch with Mehler German PVC borders and ballast bags. Mehler known for their superior quality PVC, offers a trusted alternative to Hypalon.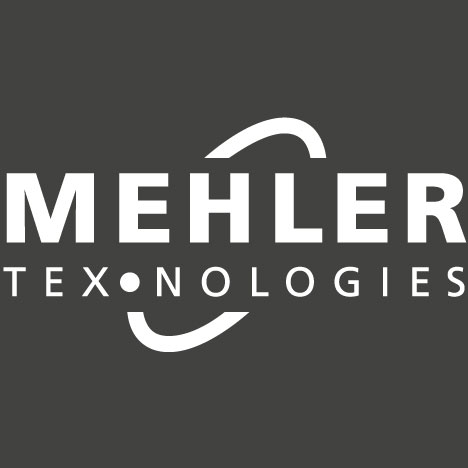 Ultraviolet light resistance

Weather resistant
High & low temperature resistant

Easy to clean

Wearproof surface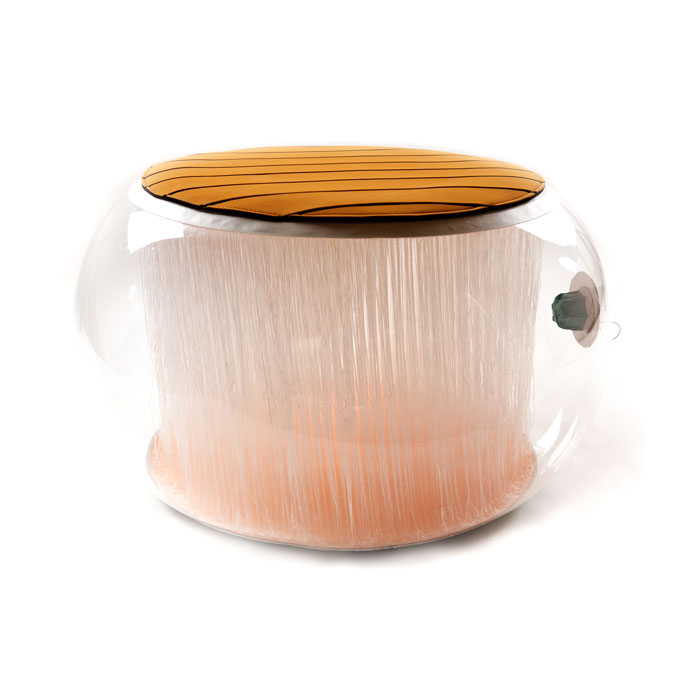 Maintaining shape
The dropstitch can be inflated to high pressures whilst maintaining its shape due to the thousands of polyester threads between two layers of fabric. Once inflated to 5.5 psi, it creates an incredibly solid base and with the addition of four ballast bags provides you with a strong, stable, floating platform.
Compliance
15649 - 1-2-3 : 2012 Compliant
For your safety the platforms have been rigorously tested to meet strict European regulations (EN) for floating leisure articles for use on the water.
The product has been put through its paces in test houses, wave pools, and on charter and private yachts as prototypes. Through this process design features have been changed and refined, ensuring that you have safe platforms that meet European guidelines.